Work to break up and recycle a massive vessel, which served the UK North Sea for more than 20 years, has begun in Norway.
The Curlew FPSO, which was operated by Shell (LON: SHEL), was loaded-in through a 'float-over', and subsequent site move operation at Vats yard in Rogaland this week.
AF Offshore Decom will now clean and dismantle the 235-metre-long vessel.
At least 97% of the materials will be used again – the first time a vessel of this type has been recycled in Norway, the company said.
It is also the first time the chosen decommissioning solution – known as a 'float-over- float-in' operation – has been used on such a large scale anywhere in the world.
The process involves using a semi-submersible heavy-lift vessel, in this case China's Xin Guang Hua, to lift the ship out of the water. From there, it can then be rolled onto the quayside.
A stopover in Dundee
Curlew produced oil and gas from its namesake field, about 130 miles south-east of Aberdeen, where it was deployed in 1997.
Shell bought the FPSO in 2013 before submitting draft decommissioning plans to the UK Government around five years later.
The London-listed supermajor had originally planned to transport Curlew to Turkey for decommissioning, once it had undergone cleaning by Augean in Dundee.
It arrived in the Scottish city in June 2019, but Energy Voice broke the news a few months later that the waste management service was unable to complete the work.
Parts of the FPSO could not be cleaned without first being dismantled, but Dundee did not have dedicated ship-recycling facilities.
Shell then launched a second round of competitive tendering for a single yard solution.
Work to take many months
AF Offshore Decom bagged the contract, which includes engineering, preparatory work, dismantling and recycling work, with the vessel leaving Scotland for the last time in 2020.
Lars Myhre Hjelmeset, executive vice president for offshore in AF Gruppen, AF Offshore Decom's parent company, said: "This is a very complex logistics project with significant marine operations. We are proud that we can carry out such complicated operations in a safe and environmentally sound manner."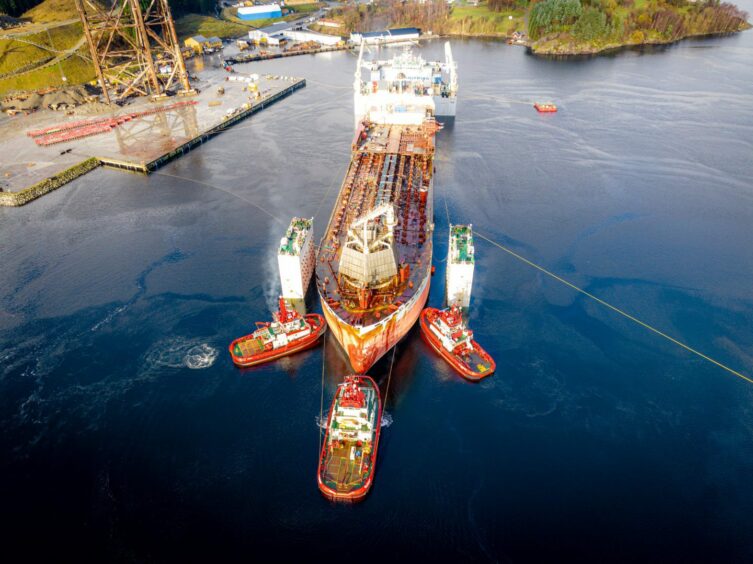 Preparatory works on Curlew have been ongoing at AF Environmental Base for "some time", with around 4,000 tons trimmed off the heft of the ship – it now weighs about 21,000 tons.
Following the float-over-float-in-operation, completed this week, the FPSO is now ashore, the "largest single offloading of a production vessel" to have been executed this way.
The hull is safely propped up on the quayside, ready for cleaning, dismantling and final recycling- these activities will start immediately and continue throughout 2023.
Reduce, reuse, recycle
Safe, green dismantling and recycling of offshore assets is an increasingly important issue for oil and gas companies as industry works to clean up its act.
AF Offshore Decom says Norwegian "engineering expertise" around the circular economy means it is able to recycle the vast majority of Curlew.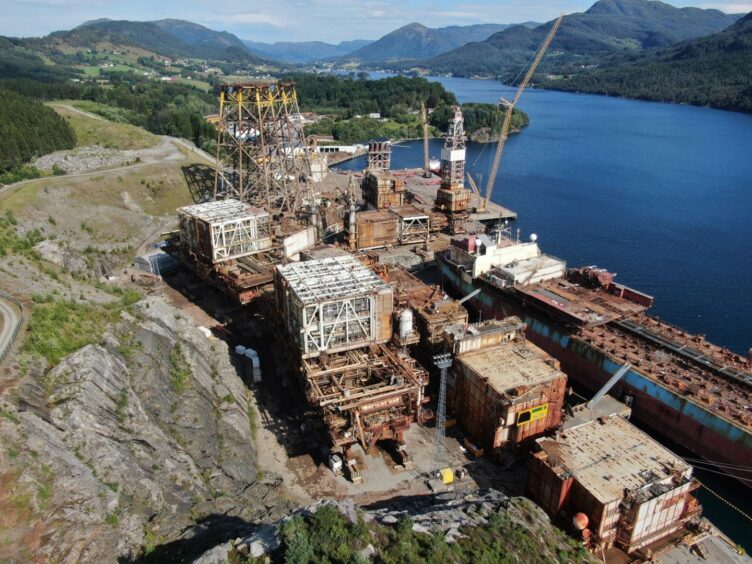 Raw materials will be used in new production, with steel being repurposed as rebar in new buildings, and all hazardous waste taken out of the system and disposed of safely.
Mr Hjelmeset said: "We have considerable experience in recovering offshore installations and floating production vessels is another area where our expertise and approach is both relevant and internationally recognized. Complex operations like this show that Norwegian offshore and engineering expertise helps set the standard for safe and environmentally sound solutions."
Recommended for you

Decom North Sea plotting rebrand as it seeks to rekindle 'mojo'