The looming threat of changes to the UK windfall tax is the "biggest question" hanging over development of the huge Cambo and Rosebank oilfields.
Ithaca Energy (LON: ITH) chairman Gilad Myerson called on chancellor Jeremy Hunt to be "calculated and thoughtful" ahead of the Autumn Budget next week, when an extension of the tax, known as the Energy Profits Levy (EPL), is expected.
Launching its IPO on Wednesday, Ithaca told Energy Voice it is "very much focused on sanctioning" both its operated Cambo field, and the Equinor-operated Rosebank field next year which it is partnered in 2023.
'The EPL, in its current form, is supportive of development'
Together the west of Shetland projects represent some of the largest untapped oil and gas resources in UK waters, and have become climate battlegrounds for environmental activists.
Should the windfall tax be adjusted in such a way to oppose developments, then the new fields will be "something that, financially, we just won't be able to embark on," Mr Myerson said.
The chancellor is reportedly seeking to increase the levy, first introduced in May, by another 5%, taking the headline rate for North Sea firms to 70%, and extend its runtime by three years from 2025 to 2028.
It's unclear whether a 91% investment incentive linked to the levy –designed to reducethe amount of tax paid against investment into the sector –  will be impacted, though prime minister Rishi Sunak has been urged by opponents to scrap it.
Uncertainty around the windfall tax this is one of the major barriers to investment, Mr Myerson said.
"I think the one question mark at the moment is the EPL. It's the biggest question mark we have.
"The government will be coming out with legislation very soon, with adaptation to the EPL.
"I would say the EPL, in its current form, is supportive of development and we assume that it will continue to be supported for development.
"But if the government decides not to support new developments, then obviously that is something that, financially, we just won't be able to embark on.
"And it's not only us, our banks won't provide us with the financing if economical returns are not attractive."
'We recognise the need for taxation'
Mr Myerson confirmed that Ithaca will be looking to refinance in order to help pay for the development of Cambo and Rosebank.
It comes as Brindex, an association of North Sea producers (not including oil majors) which Ithaca is a part of, wrote to the chancellor this week warning that the UK has become one of the most "fiscally unstable" places globally to do business.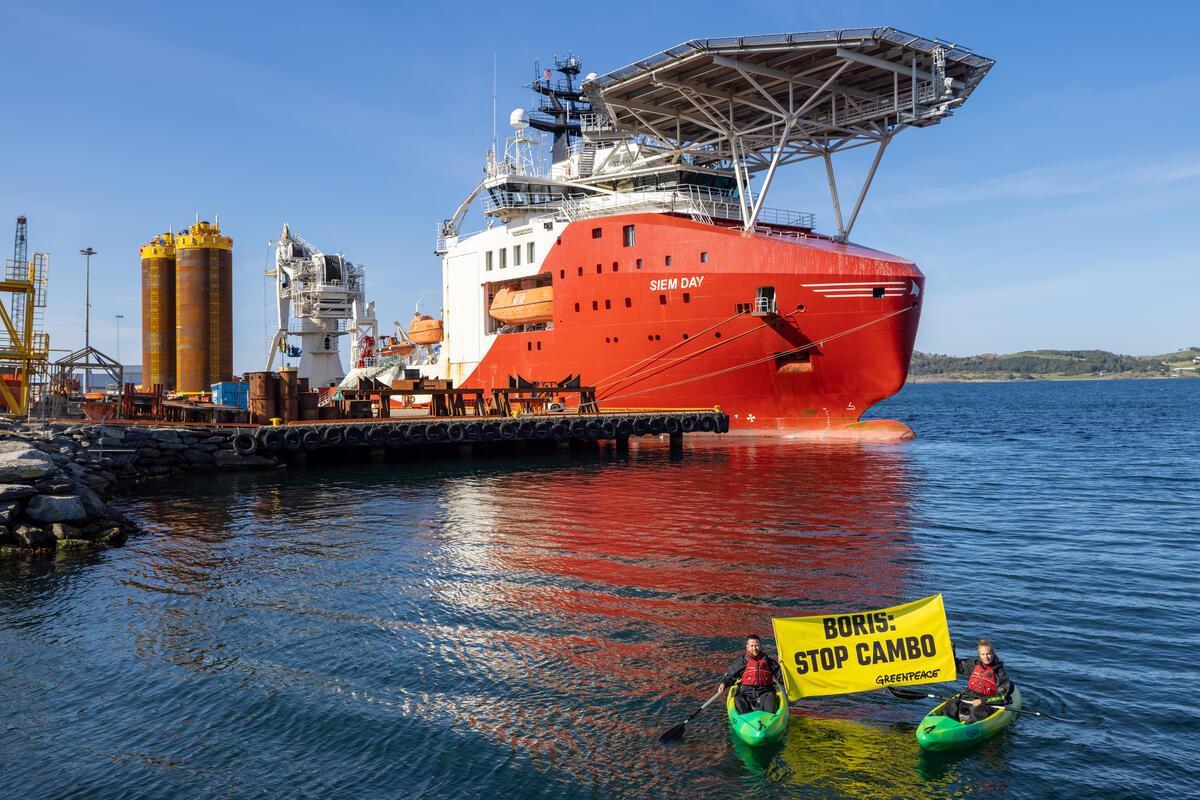 Mr Myerson said Ithaca recognizes the need for tax against the cost-of-living crisis but warned against action which could jeapordise energy security.
"We recognize the need for taxation, given the very high living costs in the UK.
"Our main ask would be to ensure that any legislation is supportive for developing fields.
"The treasury is finding itself in an interesting position.
"On the one hand, it wants to raise the taxes. But on the other hand, it wants to ensure that there are sufficient production and developments to supply the local demand.
"Not many are aware the UK is a net importer of both oil and gas, and therefore the government needs to ensure that companies have an incentive or companies you know, find it financially attractive to develop these fields.
"Any type of EPL legislation that makes projects uneconomical or ultimately stop these developments in the short to medium term will actually increase the cost of living in the UK, as well as reduce our energy security.
"Therefore, I hope that the government will be very calculated and thoughtful when it comes to the changing legislation."
Rosebank and Sturgeon
Ithaca is a 20% stakeholder in the Rosebank field operated by Equinor (40%) and partnered with Suncor Energy (40%).
Earlier this week, Scottish first minister Nicola Sturgeon was confronted by activists at COP27 in Egypt, urging her to oppose the field's development.
Activist confronts @NicolaSturgeon at #COP27 about the Rosebank oil field in the UK which would create as much CO2 as 28 countries in the Global South do annually.

Climate targets mean nothing if politicians aren't willing to walk the talk.

Step 1: Commit to #StopRosebank. pic.twitter.com/b6W6kE7vWB

— #StopRosebank (@StopCambo) November 8, 2022
Asked about activist protests in the runup to Rosebank reaching a final investment decision, Mr Myerson said: "Our focus is on developing fields and producing energy in a way that is economical, in a way that is environmentally responsible, and in a way that is fully aligned with the UK regulator and governmental regime.
"When it comes to politics, there's many different viewpoints on what's right or wrong. I think if you look at the underlying lack of energy supply in the UK, any responsible government will want to ensure that we have security of supply.
"Or else we'll find ourselves in a situation where we won't have citizens heating their homes or industry working.
"I always welcome a healthy intellectual debate, but when it becomes emotional and political, it's very hard to have that debate because it's not very constructive."
Recommended for you

Sunak urged to scrap 'absurd' windfall tax 'giveaway'